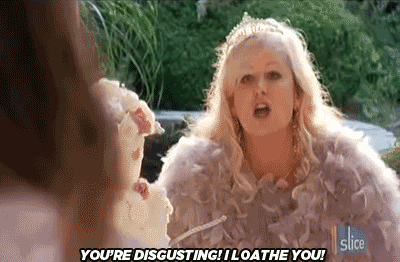 See what I did there?  It's a bread pun.  And this gif might be a bit much, but she's wearing a tiara... soooooo, there's that.  Anyhow.  I've been on a food adventure for well, my whole adolescent/adult life.  And not so much an adventure as a series of shocking discoveries and massive diet changes.  Anyhow.  I used to totally be a Frozen Pizza and Diet Soda girl.  Until I had kids, really.  Enter the Netflix documentary list- and everything changed.  Not to mention I just got older and figured out that MAYBE the reason I felt yucky all of the time could possibly have something to do with the food I ate.  Weird. 
The latest is that I can't eat dairy or soy or gluten without suffering some super fun consequences.  Then I watched a documentary called "What the Health" on Netflix, and now I CANNOT eat meat. So I'm a little bit sad about it, but I know that if I want to feel better and live better I just have to do it.  I tried to eat some wheat pasta a couple of days ago.  I now loathe wheat and everything it stands for.  
So today I spent seventeen hours at Whole Foods trying to figure out what I can eat.  I'll claim a small victory in that I had a decent lunch and made a yummy dessert for my family gathering tomorrow.  Even my five year old said it was delicious.  So I'm going to go one day at a time with this, but I will say that I am feeling so much better (minus the day of the wheat attack!), I've lost weight, my skin is clear, and I have actual energy sometimes.  I feel like that's gotta be worth it, right?  Just don't drive me by my favorite burger joint and I'll be fine.  I think. 
Please reload